Robert's Information Technology Career
In 1977 my brother-in-law and I started a construction company, Construction Specialties in San Antonio Texas. We specialized in remodeling homes in the affluent suburbs of Alamo Heights, Terrell Hills and Olmos Park. Like any business we had to generate documents such as invoices, quotes and statements, and, the device of the day was some variation of the IBM Selectric typewriter. It tedious at best with numerous white-out corrections.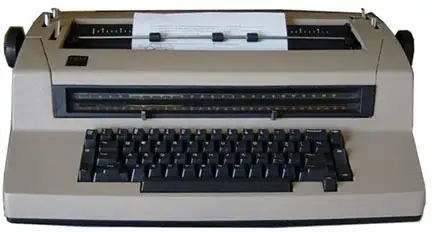 In 1981, while browsing through North Star Mall I came upon what would now be called a computer arcade store. Packed with scores of teenagers and young adults in groups of ten or more crowded around single individuals hypnotized by a yellow scrubbing bubble eating blue ghost looking creatures it was chasing through a maze. I think it was called "Pac Man". The teen was standing over a device with a built-in typewriter style keyboard, color monitor and something is his hand called a paddle. I was amazed and excited about a new type of game machine called an Atari, but at that moment I didn't see the business potential of a home computer.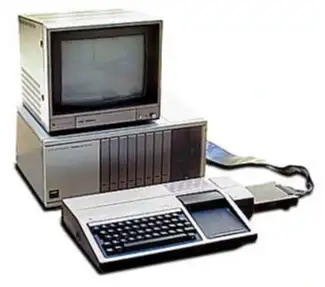 With a little research, in Christmas of 1981 I purchased a new home computer for my wife called the TI994a from Texas Instruments. She wasn't as thrilled about it as I was, even though she did enjoy playing Munch Man, TI's version of Pac Man. I was hooked big-time. I started buying and researching anything I could get my hands on. In one of my issues of Byte magazine I read about a tool that could help me with office automation called VisiCalc.
VisiCalc invented something called a spreadsheet that could automatically produce the sum of numbers in rows or columns which was ideal for designing invoices. VisiCalc wasn't available on the TI994A but I discovered a competitor to VisiCalc called Multiplan from a start-up company called Microsoft. I was now in business. What took over an hour per customer to produce on a typewriter I could now do in minutes.
The business news of the early 80's proclaimed the advantages of personal computers and office automation, but for me, and many others, their price was prohibitive and their usefulness was doubted by the uncertainty of such a dramatic change to the way companies handled office documents. Brand-named preconfigured desktops were available from companies such as IBM, Zenith, Tandy and others or you could buy do-it-yourself kits from Zenith, Heath and Radio Shack.
The brands and their bells and whistles came at a speed of availability that boggled the mind. Machines just a few months from new where already outdated by a predecessor that was itself was soon to be extinct. In just under a year I had purchased a TI994a, a Commodore 64 and the Atari Home Computers and all the upgrades you could get for all of them. In the early 80's Intel was not the dominate processor that it is today. The add-ons you needed for any home computer would only work on that computer because they each had their own proprietary design and chipset. It was an expensive hobby at best and more costly for a business.
In 1982, my father, owner of R. L. Schonhoff Advertising, asked me to research a multiuser computer system that would have an office application and an accounting software package. I found a company is San Antonio called Wagner Computer that was selling an affordable solution from Altos Computers. We purchased the Altos 586 which was based on the Xenix 286 operating system, a derivative of Unix and six Altos monochrome terminals that were connected using a DataPoint invention called Arcnet. Arcnet was a protocol that could transport data requests to and from the server over a series of coaxial cables. We also purchased Uniplex office software that included a word processor, Microsoft Multiplan and the Informix SQL database.
Since my construction company was located in the same building as my father's adverting agency, my partner and I purchased two additional terminals and a printer and networked them to the Altos. The Typewriter was now history. Between managing and working as a hands-on remodeler I was not only writing and developing applications to manage my construction company but I was doing the same as the network administrator for R.L. Schonhoff advertising. I was rapidly becoming quite proficient in the Xenix / Unix Operating system.
By 1982 any businesses eager to automate was purchasing Personal Computers like IBM, PC compatibles and Apple which made the business use of Home Computers like Commodore and TI obsolete. I remember wanting to see what all this hullabaloo about the IBM PC was all about. I visited a local computer store, Computer Craft, to see the IBM PC or Personal Computer. It was an impressive 4.77megahertz (Mhz) Intel 8088 processor with 256kb of memory, a 360Kb Floppy drive, a 10Megabyte (mb) hard drive, a stand-alone monitor and keyboard, all built in a steel chassis. My awesome shock of its capability was instantly shattered by its high price of $3000 with a printer. But within a month I had found an affordable but equally capable machine from Apple called the Apple IIe. It would be the dawn of a new opportunity.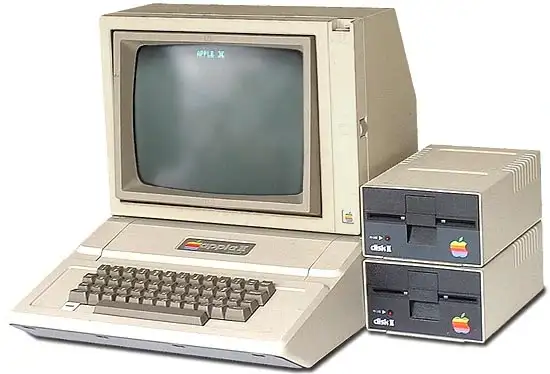 Construction Specialties was now at the forefront of the modern construction company office. Subcontractors and customers visiting our office were both amazed and eager to find out how we did it, what we recommended, what did it cost, and where they could get it. As a result I realized that I was sending a lot of business out the door. A light bulb exploded in my head.
In August 1983 we applied for a Texas Tax ID number for a new startup computer company called Computrain. In three months we had sales of over one hundred and eighty thousand dollars. My partner and I ran both companies rotating between computer sales and remodeling contractors.
1984 was a huge growth year for Computrain. By now my fathers advertising agency had upgraded to the Altos 486 and my partner and I had migrated to the Eagle PC, the Compaq Portable III, KayPro and others. Computrain was now a dealer or reseller for many products from companies such as, Compaq, AST, ALR, Wyse, and a new startup IBM compatible in Austin Texas called PC Limited. We know it today as Dell. Because of my experience with Xenix and Unix we applied to be a reseller for Santa Cruz Operation, SCO, which was the dominate supplier of Unix on Intel based servers for several years.
Starting in 1984 if a business wanted to have a network accounting software program accessed by multiple users is was most likely based on the Unix operating system. And since most businesses had a substantial investment in desktop PC's the need to find a computer company that could provide this connectivity was paramount. By 1985 there were two main players in connectivity between server based application software and personal computers, SCO Unix and Novell Netware.
My expertise with Unix coupled with the fact that Computrain and Construction Specialties were already successfully demonstrating the connectivity of Unix and desktops to perform day-to-day business operations, is was not a difficult decision in choosing to specialize in Unix to PC connectivity instead of Novell Netware. The future for me and Computrain was just getting started.
From 1987 thru 1990 sales for Computrain products and services were now in access of $800 to $900 thousand per year. Computrain was now a full time endeavor. Computrain was now a statewide contract supplier of ALR computers , Okidata Printers, supplier of AST PC's to Via Metro Transit and supplier of Token Ring connectivity products to the San Antonio Water System, AST Computer systems to Edwards Underground Water District and others. We had a nationwide contract with La Quinta to provide every one of their hotels with servers running SCO Unix. In 1990, I was the voted the number one company in South Texas for sales of computer product purchasing from Micro D, an international distributor of computer products. Open Solutions was now the leading reseller for SCO Unix in Texas.
In 1991 an amazing opportunity occurred for OST. Microsoft was a 20% owner of Santa Cruz Operation, SCO, and they knew OST was a major supplier of SCO Unix. Also, as a certified reseller of Microsoft products Microsoft knew of our resell partnership with ALR. ALR, Advanced Logic Research, was at the forefront of computer technology. They offered servers that could switch Intel chips from version to version as they came available and they could add multiple Intel processors to a single server allowing the server to meet the demand of applications serving scores of desktop clients.
Three companies, Intel, SCO and ALR worked together in developing SCO MPX which was a multiple processor capable extension to Unix. To serve large numbers of clients with server based applications a single Intel processor could no longer handle the demand, so Intel, ALR and SCO pioneered MPX into the first multi-processor server running SCO Unix. The ALR 3000 was a tower server that could run four Intel 386 or 486 processors. For each processor you added you also added another MPX add-on from SCO. The technology was absolutely leading edge.
Enter Open Solutions Technology, OST. In 1991 we were eagerly approached by ALR to debut SCO MPX and the MA 3000 to South Texas. OST was now the sole provider of the technology in South Texas. At the annual IT Expo in San Antonio, ALR and SCO both had sales and technical personnel manning the Open Solutions booth. By the end of 1991 we were appointed one of two SCO advanced Product Centers in the Texas. If you wanted this technology you came to OST. But wait there's more.
1992 saw Windows 3.1/MSDOS as the dominate desktop operating system. Network connectivity manufacturers were now frantically competing to establish a standard method of client server connectivity. Hardware now allowed for multiple servers to feed data to multiple windows based desktops in a single office network. Desktops could now connect to each other to share files, or they could open a terminal connection, in a window, and log in to an accounting application running SCO Unix or Novell Netware, and OST was at the forefront.
The major competitor to Windows 3.1 was IBM's release of OS/2 which ironically was being co-developed by both IBM and Microsoft. Both companies struggled with the direction that each felt OS/2 should go. In late 1992 Microsoft left the OS/2 partnership to develop a new operating system that could take advantage of the the same capability that SCO and ALR were already demonstrating with Unix, so they built a server-based OS called Windows NT 3.11 which would serve data to client's running the now popular Windows for Workgroups desktop.
Here comes OST again. Because OST was already successfully demonstrating SCO MPX on the ALR MA3000, which could also run Windows NT 3.1, we were approached by Microsoft to showcase their new platform on the MA 3000. By the end of 1992 we were a Microsoft Advanced Product Center. Sales for that year exceeded 1.2 million, not to shabby for a company of four people. It was a great year. 1993 saw NT 3.1 and 3.51 morph into a very stable platform, NT 4.0, with desktops running Windows 95 or NT Workstation 4.0. During the development of OS/2 that saw the split between IBM and Microsoft, IBM had secured a large contract to supply all federal agencies and military installations with OS/2 based desktops. IBM was never able to produce a server based version of OS/2 that could compete with Microsoft's NT 4.0.
At the time, a major Unix server provider called DEC, Digital Equipment Corporation had made the VAX the default hardware and OS solution for large scale corporations serving thousands of users. But the DEC VAX was a character based application and not graphical like windows. Many corporations needed to network desktops with a Windows based OS that could run the highly popular windows based applications and still connect to VAX servers for other needs. Not wanting to reinvent the wheel, DEC turned to Microsoft. DEC equipment and VAX used a non-Intel processor that could not run NT4.0 which was built on Intel processors, so DEC and Microsoft developed a version NT4 that would run on the DEC processor.
The machine was called the DEC Alpha, and like the ALR MA 3000, an Alpha server could hold multiple processors to server large numbers of desktop clients. During this period Open Solutions was purchasing products from many international hardware and software distributors like Micro D, Merisel, Tech Data and others. Merisel was given first rights to distribute the new DEC Alpha but DEC was uncertain on how to place the product, or, how it should be distributed, so they asked Merisel to help form an advisory group that would determine the course of this new platform.
For two years, I had been writing RESOURCES for a quarterly Newsletter from Merisel about connectivity issues with SCO MPX and Windows NT 4.0 on multi-processor servers. So I was gratefully shocked when Merisel appointed me to sit on the committee, being established to position DEC Alpha in the market place. At no charge I was paid 4 times a year to fly to Framingham MA to DEC's headquarters to assist a group of 30 or more network engineers, hardware and software application developers and others in plotting a path for the debut of the DEC Alpha. As a sub-note DEC was eventually purchased by Compaq who saw the value of the DEC Alpha in corporate America. Today Compaq is owned by HP.
By 1996 I was now several years into becoming proficient in networking PC's to NT servers to the point that NT was replacing my dedication to Unix. Small and medium size businesses were now dropping Unix as a server solution and replacing it with more financially viable NT based servers. OST was now one of South Texas's leading suppliers of NT Servers and desktop connectivity.
A friend of mine called me one day in 1996 to tell me he was now working at the DOIM, the Department of Information Management at FT Sam Houston in San Antonio Texas. What appears to most passersby as a typical Army Depot, it is unknown to most, that FT Sam Houston is the headquarters for MEDCOM, the Armed Forces Medical Command. It has one of the most sophisticated information technology infrastructures I have ever seen, all hidden inside plain vanilla Army storage warehouses throughout the base. It's truly impressive. He asked me if I would come visit him and few of his comrades at the base for lunch. I agreed. When I arrived for I was shocked to find out that the meeting wasn't just attended by me and what I thought was few of his friends, but also in attendance was an Army Lieutenant and several civil service staff that were all eager to meet me. The group was formed because they had asked my friend if he could find a prominent person who had the know-how to handle a major information technology upgrade for MEDCOM. He recommended me.
The task at hand was this. MEDCOM, as well as, other federal entities, was now painfully aware that NT was the dominate desktop operating system and all of MEDCOM's desktops were running IBM's OS/2 Warp. Not just in San Antonio, but at every major military base around the world that had a MEDCOM facility, and FT SAM would set the standard for the migration. My friend had touted me as the most knowledgeable person in San Antonio on NT 4.0 Server and NT Workstation for desktops. Not sure that I could actually feel those shoes I was quiet and listened. This would become great feather in Open Solutions dossier. The final shock was coming. The lead civil service person in charge of DOIM as me if I would accept a position as head of the migration group that would develop the course of action and then lead the migration. I was dumbfounder when they offered to pay me more than I was paying myself at OST.
In June of 1996 I closed down a company that I had spent years building as the leader in Unix and Windows connectivity to start my new role as one of eight Lead NT Systems Engineers and Architects for MEDCOM. In 1998, one of the base contractors, QIV Systems, asked my direct report if they could approach me for a job offer. The base agreed and the job they had for me was to do exactly what I was doing only I'd be paid more to do it. It was a no brainer. But what they had in mind for me was what would come afterwards.
By late 1997 the migration to NT was complete and my services were no longer where QIV needed me to be. 1998 saw me leading the migration and installation of a network that would interconnect the cardio surgical facilities between Wilford Hall Air Force Hospital at Lackland AFB in San Antonio Texas with Brookes Army Hospital, BAMC, located near FT Sam Houston for TRIMED, the combination of Army, Navy and Air Force medical commands. In 1998 I would see my new future into marketing and web design when QIV, now BP Solutions, as me to work on a team developing a website for FT. Hood Federal Credit Union in killeen Texas.
My reputation in Unix and Windows administration was becoming well-known and in 1999 I left QIV when a regional head-hunter ask me to consider a position at Brookes AFB to handle SCO UNIX server issues for TRI-MED. I became the lead contact for FT Dietrich in Maryland and FT Huachuca in Arizona. In 2001, another head-hunter approached me if I would interested in being the Network Administrator for Cal-Tex Protective Coatings located in Selma Texas. I accepted the task and within a year had Cal-Tex network work firmly planted in 21st century of technology. Cal-Tex had a total of 9 servers. It Hosts is own web server, DNS server, Exchange server and others as well as an integrated IBM AS400. In 2002 I asked the owners if I could showcase my skills in marketing and web development. They agreed and I was now in the marketing department. Within months Cal-Tex had their first web presence with a site that had over 100 pages of information.
2006, I left the company to establish Digital Vision Marketing as one of San Antonio's premier web and print development agencies and intent marketing specialists.